PEÑA DE BERNAL: A MAGICAL WEDDING DESTINATION
The charm of Peña de Bernal revolves around its gigantic monolith, one of the largest in the world, and which they say, provides its inhabitants with vital energy. During the spring equinox, locals and travelers visit this destination to recharge with life and the place has become a true dream for couples who choose to get married here. Peña de Bernal offers numerous wine and tourist activities, as well as beautiful hotels and haciendas to accommodate you and your guests surrounded by Mexico's nature and color.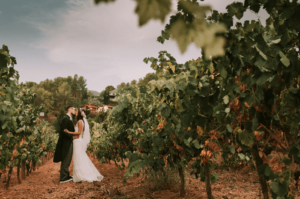 FOR ITS MAJESTIC VINEYARDS AND THE ACTIVITIES FOR YOU AND YOUR GUESTS
Querétaro is a place well known for its wines and Peña de Bernal is no exception. Your guests will be able to learn more about the wine processes, in the numerous Porfirian haciendas where charro parties and horseback riding are also organized around the ranch and the surroundings. Tours and tastings can be scheduled so that you and your guests can enjoy these experiences as part of the Icebreaker.
For those of your guests looking to get the most out of this trip, there is the possibility of ascending the Peña by car or ATV to a viewpoint and from there continue on foot, although good physical condition is required, as the slope is quite pronounced. The more adventurous guests have the option of reaching the top by climbing or rappelling.

Fotografía @cumulofoto
BEAUTIFUL OPEN SPACES FOR YOUR RECEPTION
As the wedding industry grew in here, there were important places rising as the bestoptions to spend some time in the beauty of our country side, while enjoying the comfort of these "haciendas" and "ranchos". Some of them offer beautiful places for every moment of your wedding as well as offering comfortable accommodation for all of your guests. Amongst our favorites there's Cuartel Santa Maria, an impeccably set up hotel/hacienda that offers you everything you might need from a place for your wedding day.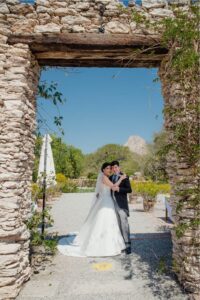 foto @cinelukmexico

ITS MEXICAN CHARM
Recognized as a Magical Town for its cultural importance, the town of San Sebastián Bernal is rich in architecture and beautiful landscapes. The simplest activity and at the same time enjoyed in Peña de Bernal, is to walk its beautiful and picturesque streets, and enjoy the warmth of the place.
Almost any place can be taken as a stage to admire the huge rock that protects the magical town and you will see your guests enjoying each landscape and wanting to photograph each corner.
If they go in search of typical crafts from the region, your guests will fall in love with LA AURORA and the central premises, where they will find many articles made with wool, because this Magical Town has a long tradition around the loom. Here you can buy clothes, rugs, cushions, bags and many more products made by the hands of Queretaro artisans.
---
For information about Bridal Makeup and Hairstyle write to us at bridal@angiemendoza.com.mx or sent a WhatsApp message to the following link https://wa.link/ghj7ur.
We have a large team of professionals to assist you and your guests.
Angie Mendoza Bridal
📍Querétaro | San Miguel de Allende
☎️ +52 442 487 71 93
💌 bridal@angiemendoza.com.mx
IG: www.instagram.com/angie.mendoza.bridal