BRIDAL HAIR INSPO: BRAIDS
This is a hairstyle known for its versatility. There's a braid for every bride, going through all styles from romantic and bohemian brides to the most classic brides and even modern ones. Today we bring you a gallery full of inspiration. If you fall in love with a braid, don't forget to save the picture and bring it to your hair and makeup test, as hairstylists we will really appreciate to know what results you're expecting.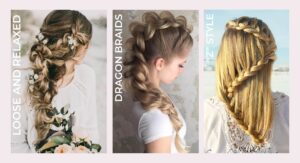 WHAT MAKES THEM SO VERSATILE? In the wide variety of braids that exist, you can always find one that suits each type of face and makeup style. The key is to weave them properly. If your bridal style is relaxed, go for a braid with larger and slightly looser strands. If you are looking for something modern, dare with sophisticated four-strand braids, Z or dragon style.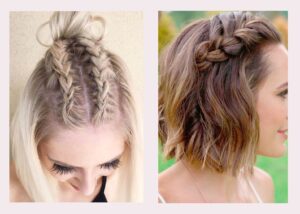 2. THEY'RE FRIENDLY WITH ALL TYPES OF HAIR. Don't worry if you feel like your hair doesn't have the necessary length. Wether your hair is long, medium or short. Straight, wavy or Chinese. There are many options to play with different types of braids, even for the shortest ones.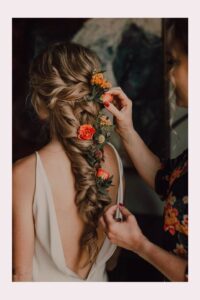 3. ADD FLOWERS. Give a subtle romantic touch to your braid with a single flower. Or add the smallest ones from your bouquet on different points. Fill your bridal look with freshness and give it a natural touch.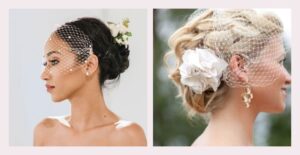 4. GIVE IT A VINTAGE TWIST. If you're looking for a unique spin to your look, consider swapping out the traditional veil for a vintage accessory. The perfect adornment to complement a braided updo is a birdcage or netted headdress.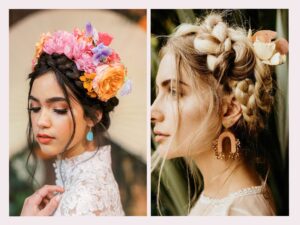 5. A VERY MEXICAN TREND. Regardless of whether your wedding is Mexican-inspired, Frida Kahlo-style braids can be ideal for the most dreamy brides, art lovers and those who love to reinvent themselves. Of course, if your wedding is country-inspired, rustic or bohemian, don't hesitate to choose them!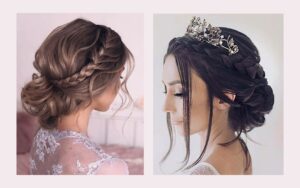 6. THEY CAN BRING A CLASSIC TOUCH TOO. There's no need to classify them as exclusively bohemian, braids can also be very elegant and remind us of classic styles worthy of a princess. Romantic or classic brides who have chosen a princess cut dress can accompany their tiara with a Dutch or French braid.
---
For information about Bridal Makeup and Hairstyle write to us at bridal@angiemendoza.com.mx or sent a WhatsApp message to the following link https://wa.link/ghj7ur.
We have a large team of professionals to assist you and your guests.
Angie Mendoza Bridal
📍Querétaro | San Miguel de Allende
☎️ +52 442 487 71 93
💌 bridal@angiemendoza.com.mx
IG: www.instagram.com/angie.mendoza.bridal