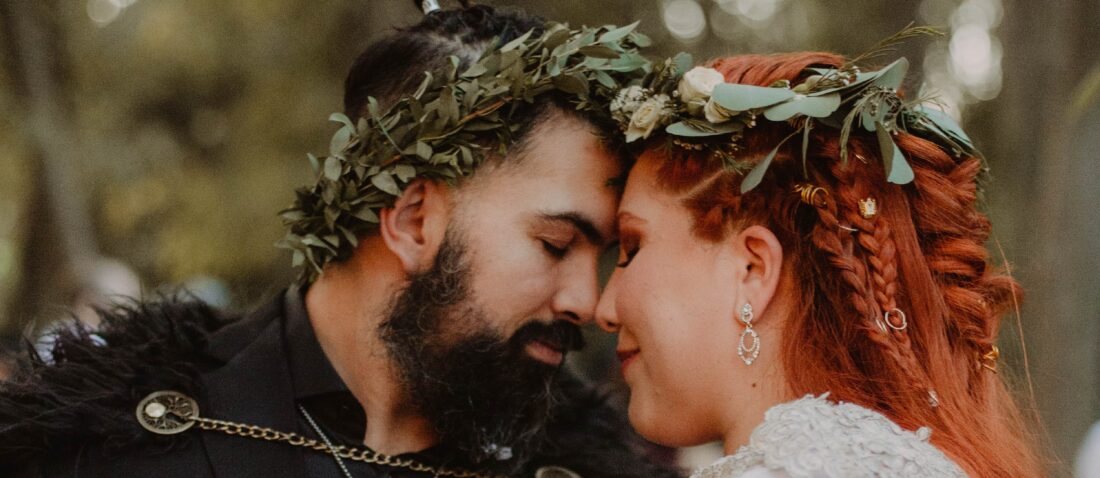 BRIDAL BEAUTY LOOKS: ANGEILIKA
In our work as professional Makeup Artists and Hairstylists in the Queretaro and San Miguel de Allende area, one of our greatest pleasures is meeting brides with different influences and taste. We learn something new from each bride and we have been able to confirm that love is lived and celebrated in many ways. On this occasion we had the pleasure of working with Angeilika, who made us part of this celebration of love with a Viking touch and we LOVED the results.
FOTOGRAFIA @carolinavnovias WP @alpha_eventos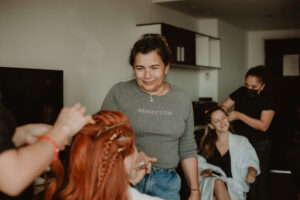 Your Getting Ready is a special moment for several reasons. The most beautiful part for us is witnessing the excitement of the family as they see how little by little the bride's Makeup and Hairstyle takes shape, until the moment she's ready for the special day.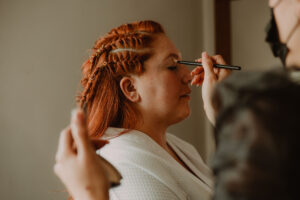 Angeilika's style is deeply influenced by Viking and Valkyrie traditions, so this was an original and refreshing look. The hairstyle began with braids attached to the skull that we gently let fall over the loose hair and adorned with metal accessories in a Viking style, giving it an imposing appearance.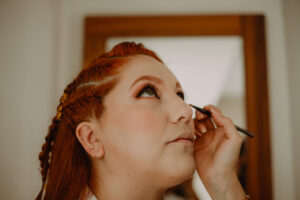 For her makeup we worked with an autumn color palette. We started with a light foundation with good coverage, achieving a porcelain skin effect. The blush in a bright orange tone filled this look with life, as did the shadows in orange and copper tones, highlighting the eyes with powerful eyeliner and false eyelashes. The lips in an orange tone were a soft complement to balance the face.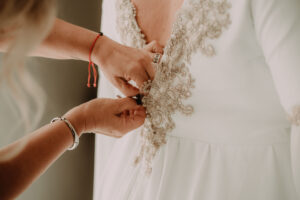 The beautiful dress with gold embroidery also included a cape, bringing great elegance to the look and separating it from the conventional.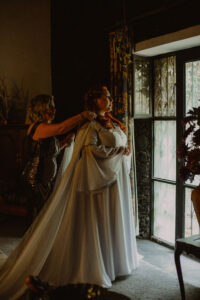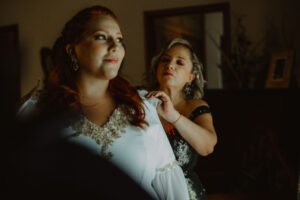 Last details…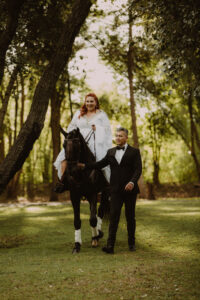 Unique touches: Angie's arrival was on a beautiful black horse, foreshadowing a magical ceremony.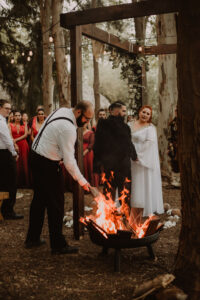 As part of this pagan nordic ceremony, there were several meaningful rituals, of which the guests took part.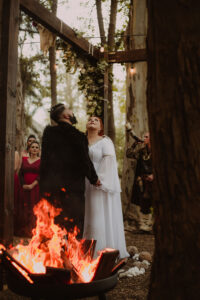 MAGIC LIVES IN US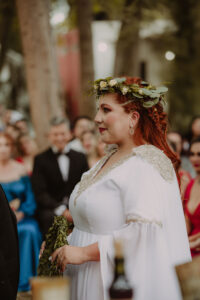 Another of Angie's inspirations was nature, which could be seen in touches such as the crowns that the bride and groom wore during the ceremony, the magical inclusion of the black horse and the beautiful landscape of the chosen location.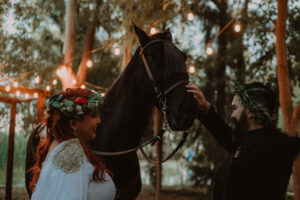 A N G E I L I K A + P A K O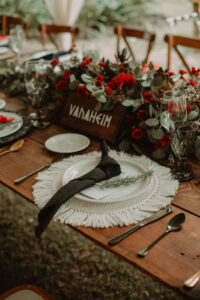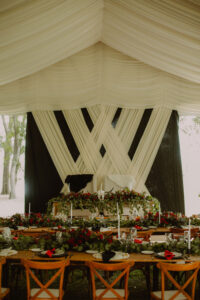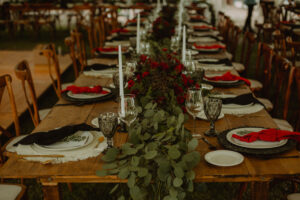 The setting gave this wedding a mystical and romantic air. Using the color white, wood textures and green foliage as a base, the touch of red as an accent was what gave that romantic and passionate touch to the decoration.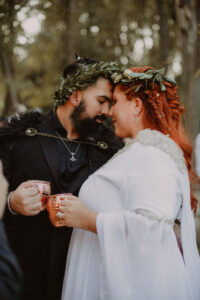 We hope that this union fills your lives with joy, just as your wedding gave us a magical moment. The opportunity to create a unique look is something we will take with us in our hearts. Thank you Angeilika for choosing Angie Mendoza Bridal!
---
For information about Makeup and Hairstyle for brides, their families and their loved ones write to us at info@angiemendoza.com.mx or send a WhatsApp message in the following link https://wa.link/ghj7ur.
We have a large team of professionals to assist you and your guests.
Angie Mendoza Bridal
📍Querétaro | San Miguel de Allende
☎️ +52 442 487 71 93
💌 info@angiemendoza.com.mx