BRIDAL BEAUTY INSPO: BRIDAL STYLE AND WEDDING DECORATION
Your style as a bride is meant to reflect your essence. Your personal taste can translate into a relaxed bohemian style or something more glamorous or even dramatic. In this article we will talk about the most popular styles among our brides that can help you express your personality in an aesthetic way and thus guide you in all the choices about your bridal look; dress, accessories, makeup and hair. Likewise, the style you go with can help you choose the place and all the details of the decoration; furniture, floral arrangements, tablecloths, dishes, etc…
Discover the style that best suits you: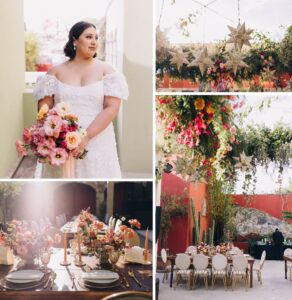 photo: @caritophotography
ROMANTIC BRIDE
Romantic makeup is soft, dreamy and feminine. Soft eyes with long eyelashes, and soft pink lipstick and blush. Romantic hairstyles are usually loose or messy updos. From a mermaid-cut dress to a strapless one they can be romantic, it's all in the details; Romantic brides love to incorporate flowers, either in the print or fabric of their dress or natural flowers take center stage in the decoration.
Flowers and pastel, feminine colors take center stage in the decoration of a romantic-style wedding. We find dreamy details such as brass stars in bronze or gold colors and candles, which can be in fun tones such as orange, pink or pastels. The romantic venue can be a garden with lush vegetation or a terrace with a view of the San Miguel de Allende cathedral.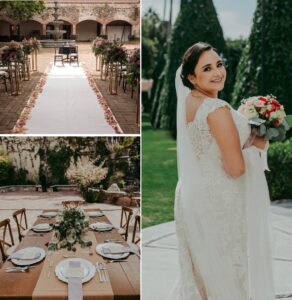 photo: @luisernestophoto
CLASSIC BRIDE
Sophisticated and feminine, classic brides prefer a timeless look. They are looking for a soft and romantic vibe, with lips in soft red or pink tones, illuminated cheeks and discreet eye shadows, which can be in pastel colors, or warm tones in brown, gold or orange. Classic hairstyles have varied textures but are generally updo. Princess style dresses and long trains and veils are preferred to achieve that timeless look.
The use of neutral colors characterizes this style. We see elegant and classic flowers in soft colors such as lilac and pink, or classic combinations such as white with red. The ideal venue would be a living room or estate that reminds us of the style we would find in a palace.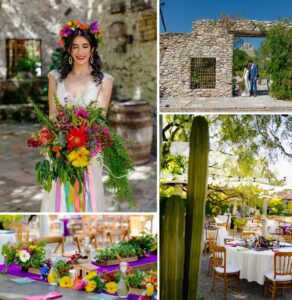 photo: @cinelukmexico
BOHEMIAN BRIDE
A boho bride wears a relaxed yet sophisticated look. If you are a free spirit, this style with a touch of elegance and creativity is for you. Boho makeup is characterized by natural skin with bronzer, soft or vibrant red lips, eyes in warm and golden tones, or earth or bronze tones. Braids are a favorite of bohemian brides as are soft and romantic loose waves, adorned with natural flowers.
The decoration and furniture at a bohemian wedding are generally vintage or gypsy-inspired. Currently we also find wooden furniture with a more modern feel paired with Mexican or simply rustic inspiration from the area. Old buildings or rustic-style farmhouses are best suited to capture this style.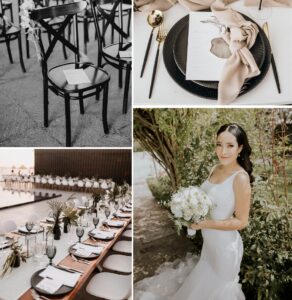 photo: @joseluis.photographer
MODERN BRIDE:
We recognize a modern bride by her neat and cool look. Many times it is minimalist, whether you wear your hair down or up, it will be chic and sophisticated. Your makeup will be sophisticated with radiant skin, a good mascara and nude lips or in bold shades like burnt red or bright orange.
Minimalism is key in the decoration for these brides too. A color palette with white as the protagonist and a single color as an accent, often silver or gold. The foliage takes center stage and we will often see a single color combined with the green of the foliage in the floral details.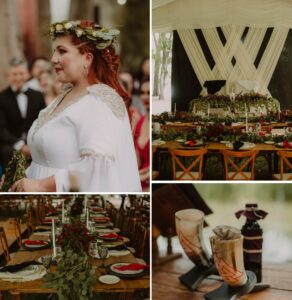 photo: @carolinavnovias
EDGY BRIDE:
The Edgy bride is bold and unique. Whether it's a different hairstyle or fanciful makeup, this bride stands out for her choices. Makeup starts with soft skin that serves as a base to get creative, whether with eyeliner in fantasy colors or facial rhinestones. The hairstyle can include braids, hats and all kinds of accessories. Each edgy bride's dress is different, whether due to the length, the type of sleeves or the color, the important thing is that it represents your unique essence.
The decoration in this style stands out for being unique. It depends directly on the tastes or the theme that the couple chooses. The color palette can highlight colors that are not generally associated with weddings such as purple, deep pink or red as the protagonist. We will also find special elements in the furniture and unusual flowers.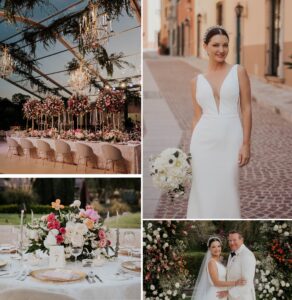 photo: @krotkov.weddings
ELEGANT BRIDE:
This is a highly sophisticated bride. Neat hairstyle and subtle makeup. The lips are generally in nude tones, the blush is not very marked, just like the eyes, in earth or gold tones. Accessories such as tiaras and other types of jewelry are characteristic of elegant brides. These go very well with updos or controlled waves.
This style translates into imposing furniture and floral arrangements, with large floral walls and tablecloths in satin tones. The ideal place is a luxurious hacienda with modern finishes and large gardens with elegant landscaping.
---
For information about Makeup and Hairstyle for brides write to us at info@angiemendoza.com.mx or send a WhatsApp message in the following link https://wa.link/ghj7ur.
We have a large team of professionals to assist you and your guests.
Angie Mendoza Bridal
📍Querétaro | San Miguel de Allende
☎️ +52 442 487 71 93
IG: www.instagram.com/angie.mendoza.bridal